«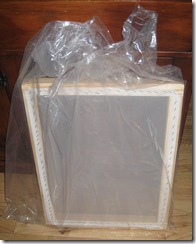 So, I've decided to give screen printing another try. I've tried and failed to make a screen once before, but I've become a much more patient fellow in the intervening years. I have a lot of ideas for t-shirt designs and I'd also like to be able to make some cheap shirts for 45AD. Anyway, it's always seemed like a cool project.
As an aside, the last manual labor type job I had was about 11 or 12 years ago working in the shipping department for a t-shirt factory over in Dumbo. Now back to our actual story.
Being a true believer in shopping locally, I found a store in the city called Standard Screen that seemed to have all of the necessary supplies. Their website also featured lots of friendly instructions on how to get started, so I thought this would be a good source for information as well as the actual supplies.
Unfortunately, the folks there were professional enough, but not exactly personable or itching to discuss the finer points of screen-printing with a neophyte such as myself. Not a big deal really, but I was disappointed not to get even a glimmer of excitement from them that someone was getting started and turning to them for his first setup. That kind of personal handling being the main driver for my preference to shopping locally, I'll probably just order my supplies online if I continue with the hobby.
Don't get me wrong, they were completely polite and professional, just not at all interested in conversation or providing any getting started tips. They don't actually have a store front, so perhaps I'm just not used to dealing with a supplier who caters to professionals.
I got about a block away from their building before I noticed the single thin plastic bag they gave me to carry six or seven large bottles of liquid, a roll of tape and a squeegee. Did I mention the incredibly fragile screen I was carrying in my other hand? Life being an endless fountain of irony, the bag practically exploded a few mere moments after I started thinking about it. Maybe my nervousness about the bag subconsciously caused me to slightly tighten my grip on the bag leading to additional stress in the already overstressed bag…or maybe I just have bag luck.
It was hot, I was wearing a black T-shirt and dealing with rush hour and now various bottles of expensive chemicals were rolling around the streets. Shockingly, the kind people of New York did not rush to my aid. I finally managed to finagle as many of the bottles as I could into the pockets of my camo shorts and I headed off to find the nearest ATM. Did I mention I was broke? It came as another shock that no one seemed to care that someone was walking down the street obviously struggling to carry some bulky items. No one even paused a beat to let me pass them and I often wound up stepping out into the street to protect the unbelievably easy to ruin screen.
I don't really know Soho very well, I don't even know my own neighborhood to be really honest, but I was surprised not to find an ATM before I hit Broadway. Yes, Broadway. The heart of the downtown shopping area, tourist attraction…did I mention this was just about five o'clock? The streets were packed with a mix of the obnoxious and the oblivious all chattering away but completely incapable of clearing some room for someone obviously struggling along in the hot summer day.
Finally I was able to get money from the ATM and I decided to see if someone would give me a garbage bag if I made a purchase in their store. I tried three, including a cafe that actually had some garbage bags in plain site and not a single one was willing to give me a piece of plastic that probably costs less than a quarter. I can understand that no company wants to make a practice out of giving things out for free, but not a single one of them had the common courtesy to try to help out their fellow man in a bit of trouble.
Now, I'm not some innocent naïf ignorant of the ways of the big city. I'm not expecting everyone to join hands, sing a round of kumbaya and then carry me home on their shoulders like the Ewoks carried C3P0. I did think that I might run into one kind soul.
The lady at the third place, the cafe I mentioned, suggested that I walk two blocks over to the Duane Reade. Thanks a lot lady. I was finally able to make it to the pharmacy and I struggled and squeezed my way through the packed aisles with my bottles and my screen. By the time I got outside and transferred everything to the garbage bags I was pretty hot under the collar. Yes, I double bagged.
I explained my plight to a security guard who was standing outside of the building next to the Duane Reade and he assured me that he would have been glad to give me a garbage bag for free. It made me feel a little better, but it was probably best that no one did anything to annoy me on the way home or they might have been in for a fifteen minute rant at full Gerrard volume.
You know, I let life's little frustrations weigh too heavily on my mind. That's something I need to work on.