«
I went on a tattoo hiatus for a few years, but I've been back on the ink bandwagon in the last two years. On Sunday I got my newest piece by Eddia Senzala at Powerhouse Tattoo. Sparrows are a common tattoo idea, but I decided to get a similar tattoo commemorating my new hobby. Without further ado, here are my new Discus fish tattoos: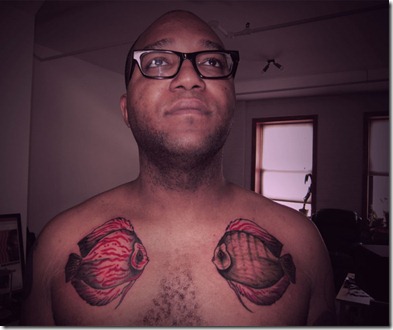 Eddie worked quickly and the only parts that really hurt were on the collarbone. I barely bled and both pieces are healing nicely. Of course, nothing can assuage the pure itchy agony of chest hair growing back in.
Only when I got home did I realize that we had both forgotten about the pectoral fins! Oh well, what can you do. I'm otherwise delighted with my new pieces and this gives me an excuse to visit Eddie when he's next in town!